Sail the Caribbean this Winter and enjoy 10%* off!
From the 700 islands of the Bahamas to the 365 beaches of Antigua; the lush, tropical island of St. Lucia to the European flair of St. Martin; the shipwreck dive sites of Tortola to the exotic jungle beauty of Belize, sail the Caribbean and realise your nautical dreams.

For terms and conditions, click here.
Book by 3 September 2018
Bareboat and flotilla holidays
10% off charters in the BVI, Antigua, the Bahamas, Belize, Grenada, St Lucia and St. Martin
Departures 1 October 2018 - 30 April 2019
5% Loyalty Rewards Applicable
Family friendly
Colonial harbours
Abundance of wildlife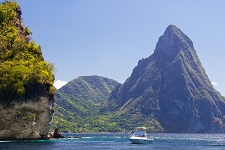 Amazing snorkelling spots
Sublime white beaches
Unspoilt Caribbean
National Parks
Blue water sailing
One way sailing to St Lucia